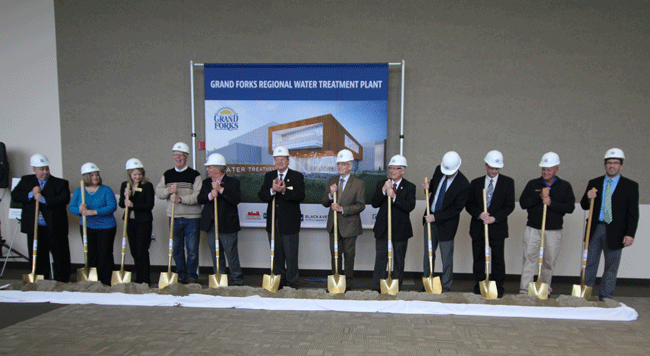 It might have been chilly and blustery outside, but just inside the Alerus Center's glass-paneled main hallway, dozens of Grand Forks and North Dakota leaders watched the ceremonial groundbreaking for the city's new water treatment center.
Attended by dozens of local officials, the event kicked off a construction project expected to begin in earnest in early December. The cost of the more than $150 million facility will be shared by the city and state.
A line of officials Wednesday grabbed hard hats to turn a ceremonial shovel of dirt before heading with guests to a nearby ballroom to enjoy a few hors d'oeuvres. While guests trickled off, Grand Forks Mayor Mike Brown stayed to answer questions.
"This is a big, big, big event, and this is a milestone," he said. "This is the biggest construction project in the history of our community. It's also one of the most important, because everybody needs water, whether you're a citizen or a manufacturer—the region, the state, we all need a healthy economy, and water is critical to that."
City Council member Jeannie Mock agreed.
"We've been investing for years and planning for years to work on this, so this is just kind of the project kickoff before the actual building," she said. "But there's been a lot of work that has gone in to date—and will continue, since construction will take about two and a half to three years."
City officials expect 50 percent of the plant to be paid for by the state and the other half by the city. Brown recently raised the possibility a local sales tax increase could be used to fund the city's share, something the mayor believes could head before the public for a second vote as soon as May. Voters defeated a similar proposal by a 12 percent margin Nov. 8.