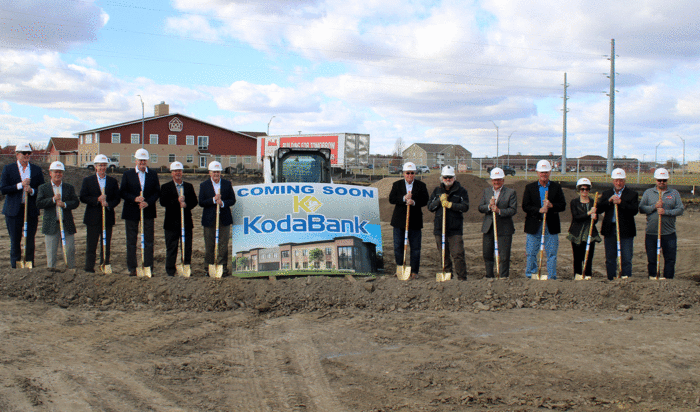 A regional bank is making its way into the Grand Forks market and held a groundbreaking ceremony at its south end location on Thursday, Oct 15.
About 25 executives, employees and board members of KodaBank gathered to hold the ceremony at 3901 S. Columbia Road. The location will house both the bank and Koda Insurance Agency. The bank primarily does business in northeast North Dakota and northwest Minnesota. Also in attendance were members of Construction Engineers of Grand Forks, which is managing the new project for KodaBank.
"We look forward to serving the Grand Forks region with the same community banking model that has been the foundation of our success," said Pete Anderson, president and CEO of Koda Bancor, the parent company of the bank. "Our customers enjoy the latest technology and banking products supported with a live person answering the phone."
According to Anderson, Koda Bancor has 10 bank locations in North Dakota and Minnesota.
The expansion into Grand Forks follows the merger of KodaBank with Citizens State Bank-Midwest in February. The merger followed the trend of regional banks joining up across the nation, in order to be more competitive with their larger counterparts. The increase in assets also makes it possible for regional banks to expand their services and offer customers new technology, such as smartphone banking applications and lower fees.
"We are excited to be expanding our footprint into the thriving community of Grand Forks," said Steve Brekke, an insurance agent for KodaBank.
KodaBank has locations in Kennedy, Stephen and Bemidji in Minnesota, and Cavalier, Minto, Neche, Pembina, Walhalla and Drayton in North Dakota.