GRAND FORKS – Despite the cold winter weather, construction projects at UND have been progressing according to plan, the university's director of construction management says.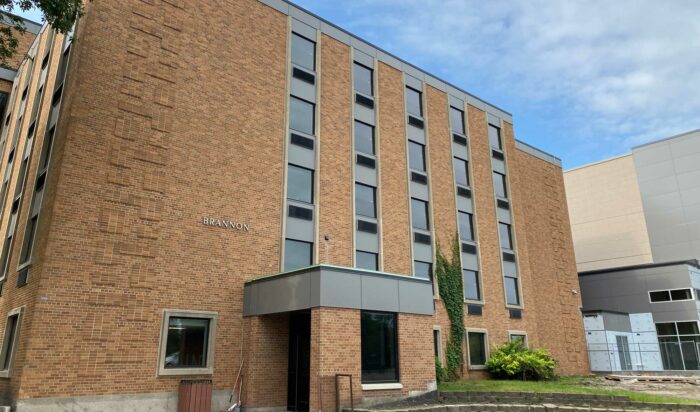 Chief among these projects is the construction of two new student residence halls — Brannon and McVey — along with major renovations to Merrifield Hall, home of UND's College of Arts and Sciences.
"UND's housing construction has been going along well," said Brian Larson, director of construction management. "Brannon Hall was completed in time for the start of the fall semester, and McVey was completed on Nov. 1. We are currently in the process of moving students residing in Walsh Hall to new homes in McVey."
The newly built Brannon Hall is connected to UND's Wilkerson dining center, which offers a wide variety of menu options including late-night dining.
Following the end of the current fall semester, UND will commence extensive renovations on Merrifield Hall. According to Larson, renovations on the 93-year-old building will last approximately 18 months, and will modernize the College of Arts and Sciences academic space.
"Merrifield is a historic building, with lots of architectural aesthetics," said Larson. "Our aim is to modernize the student and faculty experience, while still retaining Merrifield's historic charm."
UND has also begun work on its Memorial Village project, located on the site of the former Memorial Stadium, home of UND's football team from 1927-2001. The facility will consist of athletic offices on the ground floor, and four floors of apartment housing for the public on top.
"Construction crews are at work setting precast, and work will continue throughout the winter," Larson said. "We are expecting the project to be completed by 2024."
Despite the successes of the aforementioned projects, Larson said that inflationary pressures has made active monitoring of the construction budget a must.
"The construction industry has experienced some setbacks due to the rising costs of building materials," said Larson. "Additionally, budgets are typically set years in advance, which makes it difficult to account for unforeseen cost increases. We are constantly monitoring our budget to make sure we stay within our constraints."
Larson also said a tight labor market and relatively low unemployment has made retaining construction staff a challenge.
"We have also experienced difficulties hiring construction staff, due to the large number of projects in the region competing for jobs," he said. "We are working with a large number of local contractors to ensure that we have enough staff to fulfill our needs."